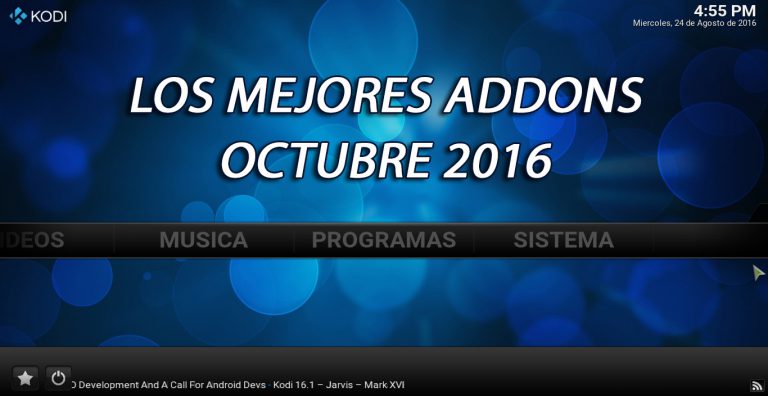 En este articulo mencionaremos los mejores addons para Kodi del mes de Octubre sabemos que hay muchísimos muy buenos, pero nos vamos a enfocar en aquellos que fueron apareciendo en el mes de Octubre 2016. Dentro del top tendremos addons tanto en idioma ingles como en latino y castellano, así como de algunos otros países e idiomas. El top mencionado no tiene ninguna orden de prioridad, cada addon tendrá su link al tutorial en caso de que deseen instalarlo. Esperamos que la recopilación sea de su agrado
|Quizá te interese: ¿Donde ver la Temporada 7 de The Walking Dead en Kodi?
Como ha sido costumbre al final del articulo dejaremos una pequeña encuesta para que realicen la votación por su addon favorito,  gracias a ello podremos saber que addons son los mas buscados y sobre el contenido que seguiremos actualizando. Cabe mencionar que todos addons funcionan para todas las plataformas.

---
Como usuarios de Kodi recomendamos el uso de IPVanish VPN para tener acceso total a todos los addons como Exabyte TV, TecnoTV , Bassfox, Adryanlist, entre otros y eliminar el geo-bloqueo.
Unos de los mayores beneficios al utilizar IPVanish VPN son:
> Mantener completa privacidad al navegar en internet así como al utilizar Kodi
> Compatible con multiples plataformas
> Soporte 24/7/365
> Satisfacción garantizada o te devuelven tu dinero
Para mas información puedes dar un vistazo en este articulo
---
Los Mejores Addons para Kodi [Octubre 2016]
La lista de los mejores addons para Kodi son:



El addon Project D en Kodi esta dedicado en las repeticiones de los deportes, dentro de este addon encontramos una grandiosa colección de deportes y eventos en vivo que podremos disfrutar de su repetición, así como una colección de películas en 3D.
El addon TVGratis en Kodi es un complementos con una gran variedad de canales de TV, cuenta con múltiples listas en latino y castellano.
Dentro de este addon encontraremos una lista de películas y series muy extensa, con oportunidad de elegir la calidad de resolución que va desde 480p hasta 1080p. Este addon se encuentra en idioma ingles con opción a colocar subtítulos.
El addon The Pyramid en Kodi es una actualización del addon Tombraider Movies, en esta actualización se ha integrado nuevo contenido como TV en vivo, series, películas, documentales, webcams, entre muchas mas todas diferente calidad.


El addon IPTVPR en Kodi es un complemento tiene un énfasis en la comunidad de Puerto Rico en donde podremos encontrar canales locales de dicho país, sin embargo no solo eso, sino que también encontraremos contenido de canales premium Latinos, USA y España y más.
Bob en Kodi es un complemento en idioma ingles en donde encontraremos listas con contenido muy variado. Encontraremos listas como películas, series, deportes, kids y más, es un addon muy parecido a Phoenix.
El addon Zona Latina en Kodi es un complemento dedicado para toda la comunidad latina, dentro de este addon podremos encontrar excelente contenido en idioma español latino, también incluye contenido castellano. Uno de los mas populares y recomendables en Kodi.
El addon Z-Pack en Kodi es un complementos dedicados a las películas, este addon esta asociado a TVAddons y contiene un buen numero de películas en HD, esta en idioma ingles pero tenemos la opción de colocar subtitulos.
El addon es una recopilación de algunos addons, esta en idioma ingles y cuenta las listas de los addons Jokers TV, The Pyramid, Pandora's Box, Origin, The Apprentice y FreeView (requiere VPN). En este addon podemos encontrar contenido de películas, series y tv de USA y UK.
10. Apollo Group
El addon Apollo Group en Kodi es un clon del addon Exodus, pero la diferencia que lo caracteriza es que podremos entrar al contenido con un solo clic, sin tener que elegir alguna de las fuentes disponibles, eso hace que cargue mucho mas rápido.
11. Tube8
En el addon Tube8 en Kodi podremos encontrar todo el contenido de la pagina Tube8, incluyendo la misma organización del sitio web.
12. Ultimate IPTV
El addon Ultimate IPTV en Kodi es un complemento de video donde podremos encontrar un montón de listas actualizadas a diario, estamos hablando de unas 15 a 20 listas diferentes por día. Dentro de cada lista podremos encontrar canales de varios países incluido UK, USA y España.




Esperamos que la información con los mejores addons en Kodi haya sido de ayuda, recuerda que puedes apoyarnos a mantenernos en linea realizando una donación por paypal (botón en la barra lateral derecha) o dando clic en los enlaces.
Nota: Mundo Kodi no se hace responsable de cualquier daño, pérdida de tiempo o información al intentar este tutorial, todo esto es solo con la intención de informar. Mundo Kodi así como todo el material aquí mencionados en este sitio no son oficiales de Kodi o Fundación XBMC favor de no realizar quejas o reclamos en el foro oficial de Kodi.
La entrada Los Mejores Addons para Kodi [Octubre 2016] ¿Cual es tu favorito? aparece primero en .