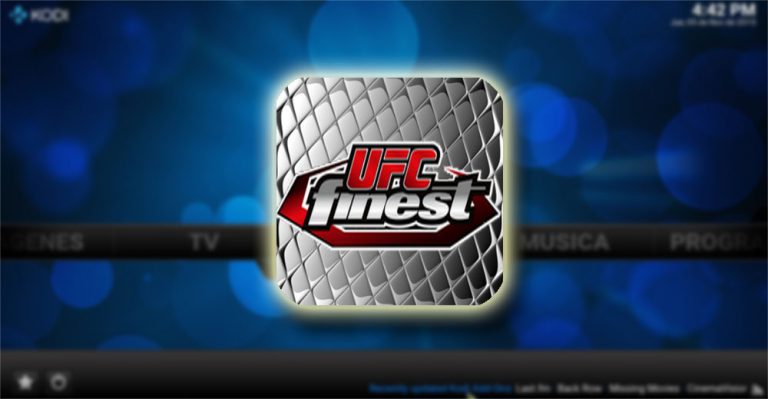 Actualización 14/12/16 El tutorial se ha actualizado. En el addon UFC Finest en Kodi es un complemento dedicado al deporte de pelea UFC, donde podremos encontrar muchísimo contenido acerca de este popular estilo de pelea, con listas relacionadas como UFC Figth Night en donde en este apartado podremos encontrar las peleas de cada noche en vivo y de una excelente calidad, a pesar de que esta en ingles vale mucho la pena disfrutar las peleas en vivo desde aca, tambien contamos con listas como Películas, Documentales, TV, Youtube, Ultimate Figther (reality show de la UFC) y UFC Select, cada una de estas listas enfocadas a la UFC o algún estilo de pelea. Sin duda si eres aficionado a la UFC este es el addon que tanto habías esperado.
|Quizá te interese: Como Instalar Addon WWE On Demand en Kodi [En Vivo, Replays y Más]
Para la correcta instalación debemos descargar previamente el repositorio The Community Repo en Kodi. El tutorial funciona de forma similar con todas las plataformas. Si surge algún problema pueden hacerlo saber en los comentarios.
---
Como usuarios de Kodi recomendamos el uso de IPVanish VPN para tener acceso total a todos los addons como Exabyte TV, TecnoTV , Bassfox, Adryanlist, entre otros y eliminar el geo-bloqueo.
Unos de los mayores beneficios al utilizar IPVanish VPN son:
> Mantener completa privacidad al navegar en internet así como al utilizar Kodi
> Compatible con multiples plataformas
> Soporte 24/7/365
> Satisfacción garantizada o te devuelven tu dinero
Para mas información puedes dar un vistazo en este articulo
---
Como Instalar Addon UFC Finest en Kodi
El proceso de instalación es el siguiente:


1. Abrimos Kodi
Recuerda que debemos tener previamente instalado el repositorio The Community Repo
2. Nos dirigimos a Sistema
3. Complementos
4. Install from repository
6. Complementos para video
7. UFC Finest
8. Install
9. Esperamos el mensaje Add-on activado
10. Regresamos al menú principal y seleccionamos Video > Complemento
11. UFC Finest
12. Ahora veremos la lista las diferentes categorías
13. Listo! El addon UFC Finest en Kodi habrá quedado instalado correctamente.


Esperamos que el tutorial haya sido de ayuda, recuerda que puedes apoyarnos a mantenernos en linea realizando una donación por paypal (botón donar) o dando clic en los enlaces.


Nota: Mundo Kodi no se hace responsable de cualquier daño, perdida de tiempo o información al intentar este tutorial, todo esto es solo con la intención de informar. Mundo Kodi así como todo el material aquí mencionados en este sitio no son oficiales de Kodi o Fundación XBMC favor de no realizar quejas o reclamos en el foro oficial de Kodi.
La entrada Como Instalar Addon UFC Finest en Kodi [Todo sobre UFC] aparece primero en .