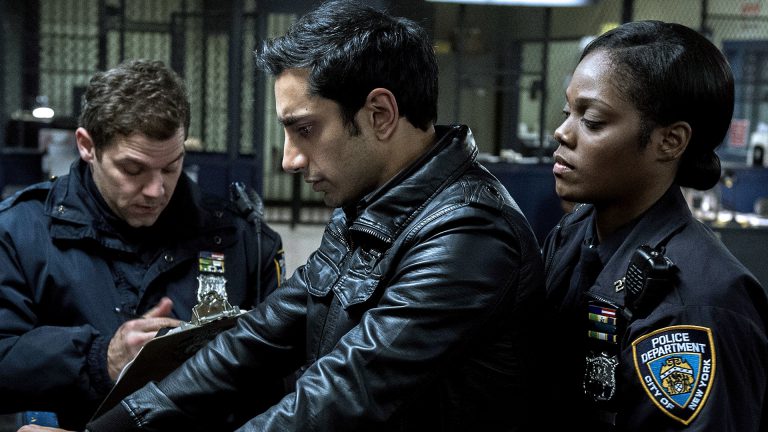 Hace poco un amigo y compañero del podcast en el que colaboro me recomendó encarecidamente una serie nueva que estaba siendo transmitida por HBO, de nombre The Night Of… de entrada me pareció que el titulo no era lo suficientemente llamativo como para verla, estaba yo tan metido en otras series que no hice caso a la recomendación y decidí dejarla para después, esta recomendación me la dio hace ya unas semanas  sin embargo solo atiné a verla cuando me aviso que era la serie de la que íbamos a hablar en el podcast, así que como no me gusta hablar de cosas que no conozco, me dispuse  a ver el primer capitulo de la serie y mi sorpresa fue mayúscula . Les dejo el podcast por si desean escucharlo AQUI 
The Night Of … Una serie a la que debes darle un vistazo
En primera el titulo que me parecía tan sin sentido en ese momento, cobro muchísima importancia The Night Of, o la noche de, se refiere a la clásica pregunta que hemos visto y escuchado en cientos o miles de ocasiones en toda novela, serie o película detectivesca " Que estaba haciendo usted, La noche de …. " y que es el prefacio de un interrogatorio intensivo o relajado según sea el interlocutor, ya sea un abogado, un fiscal o un detective .
The night of, es una de esas series que están pensadas para hacer dudar al publico de lo que ven y de como lo perciben, no con efectos especiales o visuales sino con los descubrimientos que va  haciendo a  lo largo de la serie, que cuenta la desgraciada historia de un joven universitario llamado Nassir Khan, hijo de inmigrantes paquistaníes quien es acusado de asesinar a una joven con la que mantuvo relaciones las horas previas a su muerte. La serie documenta su proceso y su largo peregrinar a través del sistema judicial al ser parte de una minoría, ademas de narrar alternadamente aspectos de la vida de su abogado interpretado por John Turturro.
A su vez la serie sirve como un retrato de como la ley en los Estados Unidos funciona y como hay algo que esta roto y que parece que no puede arreglarse, es un retrato de la corrupción, de los malos manejos, del racismo y tambien funciona como un retrato de la realidad en la que el país del norte se encuentra, al tener cárceles superpobladas y un sistema de justicia inoperante, sobra decir que los Estados Unidos de Norteamérica tienen a la mitad de los presos del mundo y que la mayoría de ellos al cumplir su condena regresara en un periodo no mayor a tres años.
Todo eso es The Nigth of, ademas claro de grandes actuaciones y una producción impecable a cargo de HBO en co producción con la BBC en el que fuera el ultimo proyecto de James Gandolfini (Tony Soprano en la serie Los Soprano) del cual grabará un piloto un mes antes de su lamentable muerte, para que un mes después de la misma fuera retomado por la cadena incluso dándole crédito como productor de la serie.
Vean esta serie, realmente les hará plantearse mucho de lo que pasa en el mundo y la manera en solemos ver las cosas, al final se darán cuenta de que nada es blanco o negro y que la vía transcurre en un gris muy  oscuro .
Si esta nota te gusto, dímelo en los comentarios o compartan en sus redes sociales, recuerden que en Mundo Kodi encuentran todo lo que buscan sobre Add ons y lo mas nuevo de Kodi. Soy colaborador de BandaGEEK.com. El podcast Zona retro y Desde la barra de Abel  donde toco temas de tecnología, Cine y Series.
La entrada The Night Of … Una serie a la que debes darle un vistazo aparece primero en .